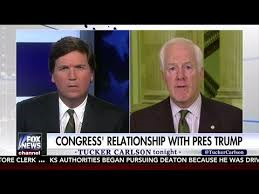 Watching Tucker Carlson on Fox News Channel when he invited Senator John Cornyn of Texas on to his show to explain why Republicans are not moving legislation forward, not making any progress at all really and taking inordinate amounts of time off in the very critical 1st 100 days of the Trump administration.
Sen. Cornyn came across as a disconnected old poop!
He made excuses, pointed fingers and stammered around like a lost puppy – It was SAD!
These arrogant, ego-driven old school "RULERS" like Cornyn have not – nor will they ever "GET IT"
So yes Mr. President… #DrainTheSwamp bu any means, and on both sides of the isle.
My Tweet on this at RadioRoger1
THANKS @TuckerCarlson for EXPOSING The arrogance of the Swamp Creature @JohnCornyn