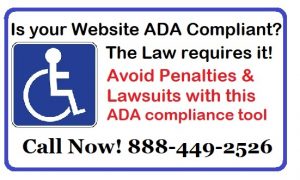 How to make websites ADA Compliant call 888-449-2526
Stop crooked lawyers -Don't get sued for being non – ADA compliant! We have the cure!
1st of all – You want people with disabilities to enjoy as much of your website as possible – for both business reasons – and for the shear act of kindness it is!
2nd – By having this technology – you instantly protect yourself, company or organization from the legal attacks that are growing in number exponentially – from law firms that seek non-compliant websites out – to shake them down for an easy buck! Get this tool – place it on your site – repel those bad actors and send them packing!