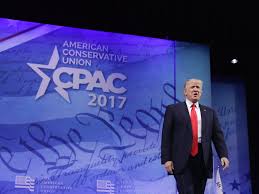 We thought the Thursday appearance of Steve Bannon and Reince Priebus at C-PAC was an amazing and delightful experience – It was 100% substance and fun to see. Then came Friday – President Donald J. Trump rocked the 2017 C-PAC audience with a continued theme of leading an administration determined to keep it's promises on Repeal and Replacement of the disastrous fraud and medical ponzi scheme known as Obamacare, securing the border, building the wall, ejecting and deporting criminal aliens, rebuilding our infrastructure, bringing back jobs and putting America first on trade policy. Additionally the President promised to eliminate harmful regulations, rein in costs and Make America Great Again. The crowd offered several standing ovations and were clearly in support of the Trump agenda. The media headlines were interesting in the immediate afterglow – here are a few examples:
Trump At CPAC 2017 Says 'Era Of Empty Talk Is Over' : NPR
Trump at CPAC: Right's Unlikely Hero Renews Attack on Press NYT
President Trump electrifies CPAC crowd, bashing media Fox News
CPAC 2017: Trump eyes Reagan halo – CNNPolitics
Thank You C-PAC and President Trump!
#MakeAmericaGreatAgain
Roger Fredinburg