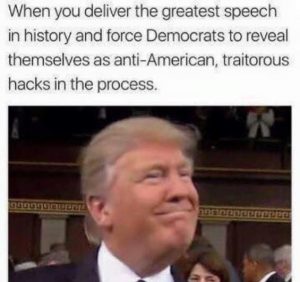 President Trump outlined a bold plan for Making America Great Again #MAGA on Tuesday night.
Liberals and Democrats groaned and booed at the Trump plan to unite Angel moms (families who have lost loved ones to illegal immigrant killers) under a banner of active participation in the on-going discourse on border issues.
The President was brazen but not too strong. He called for unity, cooperation and results.
We are very excited to see just how many of these Faux Angry liberals will ultimately get on board to do big things and help President Trump implement big ideas for the USA.
Roger Fredinburg
Editor