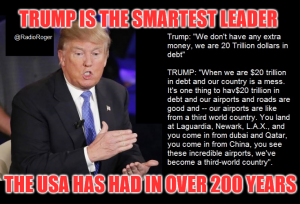 We are watching an amazing transmogrification of the relationship between the Left Wing Democrat controlled American News Media and the White House press office and President Donald Trump.
The days of unanswered left wing bias and gratuitous assaults on conservative ideals are over! And the invasive Political Correctness push has thankfully hit a brick wall with Mr. Trump as POTUS.
The President has called the biased media out – he relentlessly attacks that bias with the full force of his personality, and now he wields real power as #POTUS – so the damage being done to the left wing media and that unbridled bias is beginning to pay real dividends for genuine freedom lovers and liberty seekers in the USA.
The media has been lured into a web of intellectual swordsmanship, and President Trump has them outmanned at every turn – it is a beautiful thing – watching the bias #fakenews media squirm, quiver and die the death of a thousand self inflicted newspaper cuts.
For months the #MSM has relentlessly bombarded the print pages and electronic media, TV, Radio and online – with unsubstantiated claims of illicit Russian ties to Mr. Trump and his surrogates in the Presidential campaign. Of course ZERO hard evidence exists, but that has not stopped the hourly assaults and cries for the "Truth" to come out. All of it is baseless poppycock at best.
Now, President Trump has accused the Obama folks of #wiretapping his campaign seeking a smoking gun on the baseless Russian connection.
The irony of course, being that there actually are multiple media reports in major newspapers and throughout the news reporting community that said wire taps did occur. And there are FISA Court documents to sustain the claims by the White House.
It is classic Watergate 2.0 and if the facts come out, this could lead to criminal charges, even against former President Obama.
The question is and will continue to be – In the famous words of Watergate snitch Howard Baker – "What did the President know and when did he know it"
–Roger Fredinburg