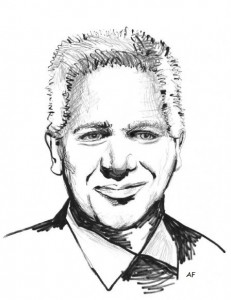 Many listeners and followers of Glenn Beck and the Blaze are wincing and running to other media as Glenn Beck moves further left toward a more "Centrist" political and social viewpoint.
Beck has been regularly attacking GOP hopeful Donald J. Trump with what some describe as reckless abandon. Experts we talk to daily in the Talk Radio community are concerned that Beck's retreat from his long standing patriotic far right base could bring his media empire down.
According to blogger Voltova Dmitri:
"Fast forward to 2015, Beck is no more popular than a small time blogger.
Two of Glenn Beck's top executives have reportedly left his organization to start a new digital venture.

According to CNN, "the departing executives are Chris Balfe, who was Beck's CEO, and Joel Cheatwood, who was president and chief operating officer."
Balfe has reportedly been Beck's "right-hand man for more than a decade," and that is why his "exit raised some eyebrows at the time."
CNN noted that in January Beck promoted Betsy Morgan, who had been at the left-leaning Huffington Post and CBS before she joined Beck's organization, to be The Blaze's new CEO.
The report noted that "questions persist about whether The Blaze will be able to succeed as a cable TV channel," and the departures come as Beck is trying to moderate his image and "change what he and his company are best known for."
As CNN noted, the "biggest cable provider in the country, Comcast, and the biggest satellite provider, DirecTV, have so far declined to carry the channel." Previous reports indicted that executives believed The Blaze was too dependent on Beck, a personality who once called President Barack Obama a racist. Industry executives also reportedly felt that "there's no other must-see TV on the channel."
Last year, Beck tried and failed to strike a deal with CNN. During that time, he attempted to moderate his image for television executives. He apologized for his inflammatory comments about Obama. As Breitbart News noted, Beck started positioning himself toward the political center, bashing Americans who were against illegal immigration during last summer's border crisis"
I have known Glenn Beck and his "Handler" Kraig Kitchin since about 1996. Kitchin is a brilliant radio programmer and executive with the credibility to "reach" his clients, which include the biggest names in Talk Radio and beyond. Mr. Kitchin missed the genius of my "Regular Guy" shtick at TRN, (As evidenced in the rise of Duck Dynasty, Alex Jones etc). But aside from that, he is still a mastermind and Talk Radio management legend. I can't imagine him allowing Glenn Beck to drive himself off of the cliff into oblivion and self destruction. Hopefully Beck will get good counsel and break the fall before it's too late.
–Roger Fredinburg