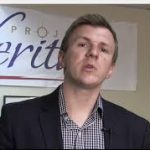 Is the Main Stream and the Alt-Left media cabal about to get it's proverbial @$$ kicked? YES! We approve!
"In the next 48 hours, Project Veritas, like WikiLeaks, will be releasing hundreds of hours of tape from within the establishment media. Our next target is in fact, the media. We've had people on the inside come to us. Just like Julian Assange has people come to him, w've had people, sources come to us and give us information and we are going to be releasing it WikiLeaks style this week."
To quote an article on WND dot COM:
James O'Keefe, of Project Veritas fame, said during a recent radio interview with Sean Hannity of Fox News that he's just hours from releasing a barrage of behind-the-scenes information on the mainstream media akin to the Julian Assange-style WikiLeaks documents dump that rocked the political world.
The "hundreds of hours" of newsroom footage is set for release Thursday. O'Keefe didn't say what networks will be included in the release, but he did tell Hannity "it's one that [President Donald] Trump has really been talking about."
"The Death of Free Speech: How Our Broken National Dialogue Has Killed the Truth and Divided America" examines how the news media has created arbitrary, biased and illogical rules for determining what can and cannot be said in the public arena.
Read more at